Featured Store
Meet our featured store…

Vision Christian Store
10398 Piscataway Rd.
Clinton, MD 20735
Website: visionchristianstore.net
The Vision Christian Store originally began in 1999 as a vision from God to create Christian Sportswear. From that vision came the Armor of God Sportswear which remains an integral part of the store, which opened in April of 2011.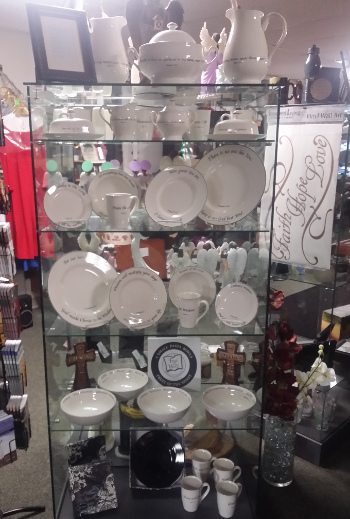 The store has an on-site silk screen shop where Christian sportswear is created and offered to our clients. The silk screen shop also provides services to our clients who would like to personalize sportswear for special events such as family reunions.
The Vision Christian Store is a family owned and operated business that is owned by Robert and Cheryl Woodard who originally began working through faith at a flea market on a 6 foot table. God continued to open doors at local churches and Christian events.
Our focus is always on the customer first. Our customer service motto is "Our customer is the most important visitor on our premises, they are not dependent upon us, we are dependent upon them. They are not an interruption in our work, they are the purpose of it. They are not an outsider in our business, they are a part of it. We aren't doing them a favor by serving them, they are doing us a favor by giving us an opportunity to do so." We appreciate each and every person who walks though our door.
When a customer asks for something that we don't carry we search for the product until we can make it available as was the case with "Feed on the Word". A client came in the store inquiring about these dishes that she'd seen when on vacation and she regretted terribly that she didn't purchase them when she was there. I promised her that if they were available I would get them for her.
The Google search began and it didn't take long to find "Feed on the Word". I immediately contacted the company and began the seamless process of putting them on our shelves and the rest is history. It is a blessing to be able to offer Feed on the Word Scripture dinnerware to our customers and hear about how they are enjoying it in their homes.